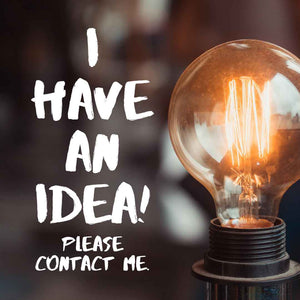 Glory Laser Designs
I have an idea!
Regular price
$0.00
$0.00
Unit price
per
Quite frequently we get texts, emails, fb messages, and sometimes it's while we're walking our dogs, grocery shopping, or out to eat we'll hear, "Hey! I have an idea!" or "Can you make...?" People will begin telling us their creative vision for a custom item. Incredible pieces have come from these casual spur of the moment conversations. And we don't want to lose that momentum once we've parted ways, so we have devised a way for you to share with us your ideas, your questions, and your custom requests in a way that we won't lose them and you won't forget them. Leave us a short simple description of your idea, upload any inspiring images you have, and tell us the best way to contact you via phone, text, email, or fb messenger. And we will get in touch with you to begin creating the blueprint of your one-of-a-kind custom creation.
Complete this process like you would any order, however you will not be asked for payment information nor will you be charged.
By doing this, you will be added to our order list, and it ensures we won't miss it. You can still text, fb/Instagram message, and email us. We just want to offer an additional way to organize our communication with our customers. You're so important to us! 💛
This is not a purchase for an item neither physical nor digital. Purchase price for orders created from this point of contact will be agreed upon and paid in full prior to the beginning of the item creation, and will be paid via our Payment Processing for Custom Orders. 
Participating in this form of communication does not commit neither the customer to placing an order nor Glory Laser Designs to committing to fulfilling an order before the order is placed. 
---
Share this Product
---